Summary
Custom email templates let you tailor the content of your LearnUpon email notifications. You can include custom text in your notifications, providing details beyond the default message.
This feature is available to all customers.
Default email notifications
The following templates are available by default on your portal. You don't need to enable the templates. LearnUpon sends them to learners when you use a feature (like portal invites) or set the options at the course level.
Portal Invites - requires sending portal invites to users
Enrollments - sent by default. You can disable these at portal, or at course, level, if required
Course Completions - requires setting up a course completion notification
Course Recertifications - requires adding a certificate to a course, and setting auto re-enroll options
Enrollment Reminders - requires setting up in course notifications
Rejected Enrollment Request - requires allowing users to self-enroll, and enabling admins and managers to reject enrollments
When you use these features, or set the notification option, LearnUpon uses default wordings, as shown in the custom email templates.
For guidance on using these notifications see:
Find custom email templates
From main navigation go to Settings > Email > Custom Email Templates.
The page shows all the custom templates available.
The following screenshot shows a sample of templates with Portal Invites template enabled. When you enable a template the mail icon changes.
Enable and edit a custom email template
LearnUpon provides a sample default text and variables for each template as a starting point.
In this context, enabling a custom template means customizing the template, optionally adding more recipients, and selecting Enabled to choose this text over the default text.
From main navigation go to Settings > Email > Custom Email Templates.
Select a template to open it.
Enter a Subject, and edit the text in Message using the CK editor.
Add variables to Message and Subject by selecting a variable from the list provided.
From the Actions menu, select Send to Self to receive a preview to your email address.
When your template's content is correct, select Enabled? to start sending it to users.
Optionally: for certain templates, select additional recipients for copies:

Bcc Course Owner
Bcc Managers
Cc an email address of your choosing on all emails sent: enter an address
Bcc an email address of your choosing on all emails sent: enter an address

Save to finish.
To undo all changes to a template: from the Actions menu select Reset to Default.
Use cc and bcc in email templates
You can set up email templates to send copies of emails to people who aren't taking the course, including:
bcc (blind courtesy copy) emails to course owners and group managers: learners can't see the names of bcc recipients
cc (courtesy copy) and bcc emails to any other email addresses you provide: learners can see the names of cc recipients
These options are available for templates about enrollments, assignments, eCommerce, and learning paths, which typically apply to groups.
When you enable Bcc Managers on a template, all managers for the learners receiving the emails receive a copy.
The following screenshot shows the email template for enrollments, with Bcc Course Owner and Bcc Managers enabled, and a sample cc email address.
Note: newly-assigned managers can encounter temporary delays, the first time they are assigned as a bcc recipient. If the delays persist contact the Support team.
Custom email template list and requirements
The following lists group templates by function, and includes the default templates. Some templates require settings for the relevant features.
Invite templates
Enrollment templates
See Course notifications: set automated messages for course events to learn how to set up most of these messages.
Assignment templates
Both these templates require your course to have an assignment module. The course can be in draft or published status. See Assignments: create an assignment for a course for the whole process.
Assignments submitted by learner
Assignments reviewed by instructor
Store templates
See Collection: eCommerce for the process to set up an online store. All these templates require eCommerce enabled.
New customer sign-up (via store): In eCommerce settings, if you select Disable sign-up confirmation requirement prior to purchase, LearnUpon disables this template
Purchase confirmations (via store): requires enabling Send purchase confirmation emails in the portal settings
Bulk purchase email (via store): requires the following portal settings:

Settings > eCommerce > General Settings > Allow Bulk Purchase
Add a payment gateway for your store
A course in sellable status
ILT session templates
All ILT Center notifications require the ILT feature and notifications turned on at portal level. You can then turn on learner notifications in the training. See:
Note: currently, only notifications for learners have editable templates.
Email templates and default languages
Email templates appear in the default language of the portal you use, when you open them for the first time.
Example
If you create a portal and set the language to French, then open any email templates, the template text appears in French.
If you change the portal language to English, any templates you opened, even if you didn't enable them to use, remain in French.
Reset email templates to current portal language
You can reset email templates one by one to the current portal language by returning them to their default versions.
Tip: if you've added custom text to a template, copy and paste your custom wording to a text editor, so you can recreate it in the current portal language.
To reset an email template's language:
From main navigation go to Settings > Email > Custom Email Templates.
Select the template you need to change to open it.
From the action menu, select Reset to Default.
In the dialog that opens select Yes to confirm.
The following screenshot shows the reset confirmation dialog.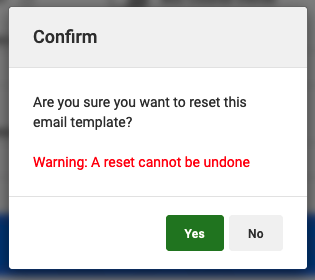 A pop-up message confirms that LearnUpon has reset your template to its default version.
See: