Summary
See the learner's experience of opening, editing and submitting an assignment, with options to attach additional documents.
The assignment feature is available to all customers.
See Assignments: create an assignment for a course for the how-to of creating an assignment for learners.
In an assignment module, learners can:
Learner view of the assignment module
When the learner opens the assignment module they can read the Assignment Details. The module status appears as In Progress.
The following screenshot shows the learner's view of an assignment.

When the learner is ready to start entering their response, they select Your Response/Notes.
The learner sees the rich text editor where they can write, edit and format their content. In the assignment module, CK Editor doesn't support raw HTML.
As soon as the learner starts entering content, the option to Save becomes available. The learner can save their work as often as required.
The following screenshot shows a learner's view of the editor with a work in progress, and Save highlighted.
Upload assignment files
A learner can upload any of the file types supported by LearnUpon including video files. They can upload up to 5 files, to complete their assignments. See File types supported in modules: overview.
For any file type not listed, learners can compress (zip) the file to upload it, so long as it remains under 500MB per file.
To start, the learner selects Upload File, to
open their device's storage
select a file
select Open or Add to attach the file to the assignment
The file appears under the Attach files heading.
A learner can delete a file to replace it if required, by selecting the X next to the file name. In the confirmation dialog that opens, the learner selects Yes.
Submit an assignment
When their assignment is complete a learner can select Submit Assignment.
In the confirmation dialog that opens, they select Yes to confirm.
In courses where multiple instructors are available, and not assigned directly to individual learners, learners must choose their instructor before submitting the assignment.
If they don't know which instructor to choose they can select I'm not sure.
The following screenshot shows an assignment with 2 attachments, and the Choose your instructor menu open.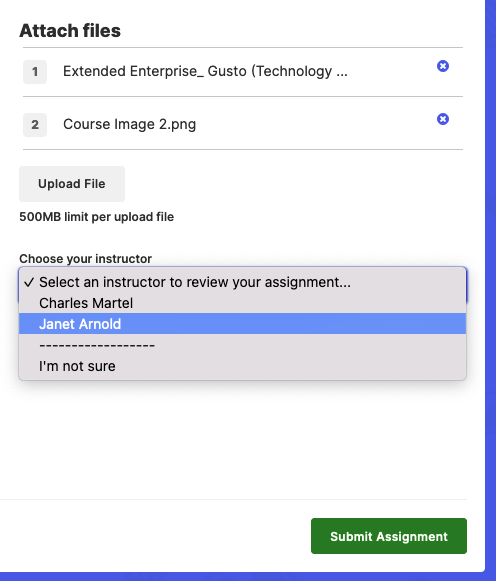 After selecting Submit Assignment, LearnUpon returns the learner to the Assignment Details, with the assignment status changed to Pending Review.
See: