Summary
Resources are online content items, like documents and videos, that are available for learners outside of a course.
Resources are available to all customers.
Admins can share resources through the portal library, or by a direct link. These links are accessible outside of LearnUpon, without logging in to the portal.
Resources remain available after a course ends, as long as the files are in the portal.
Access permissions to resources
Only admins can create, manage and share resources in a portal. See:
Learners can view and download resources, depending on the access options, set by the admin. Permissions include:
displaying them in the Resources tab
adding tags and categories to support searching on the portal
providing a direct shareable URL
allowing downloads
limiting access to specific learner groups
Tip: learners can't change the access options for resources. If learners can't view or download a resource, an admin needs to check the resource's access settings.
Accessing the Resources tab
When admins make resources available within a portal, learners see Resources in their main navigation bar.
From main navigation, select Resources.
The following screenshot shows a sample selection of resources on a portal.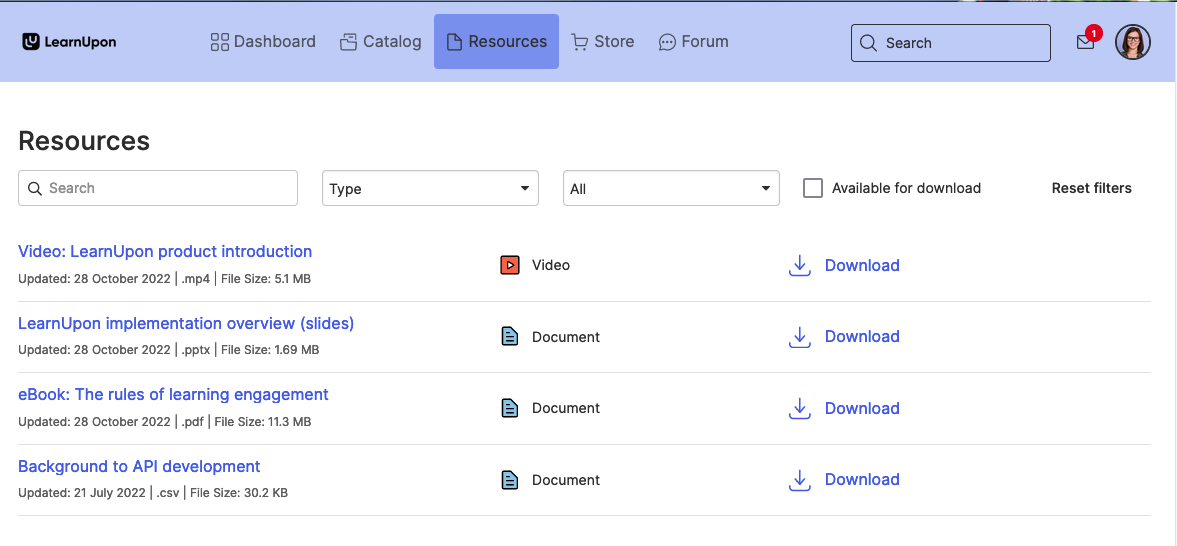 Each item includes:
file title
update date
file type
file size
From this tab learners can search for resources, and they can filter by:
file type
category
availability for download
Shareable URLs for resources
For resources, LearnUpon generates unique static URLs that instructors can share outside a course.
The admin can provide this URL to distribute as required: for example, an instructor or manager can add the URL to their messages to learners.
These links are accessible outside of LearnUpon, without logging in to the portal.
See Share a resource.
See: