Summary
Set the default permissions for downloading course content for the whole portal.
These default settings are available to all customers.
Letting learners download content means they can access their course content offline.
Requiring learners to view all content online provides more control over your course content. It also requires learners to have reliable internet service.
The Copy Protect option for documents prevents users from copying and pasting text easily from your course content to another location.
You can change the settings for individual courses as required, when you upload content in a module. See Add documents, video or audio segments to modules to see these options, including page tracking and video tracking.
Set paper size
For printed certificates linked to courses, you can choose a paper size. Letter size is common in US and Canada, and A4 is common in most other countries.
From main navigation go to Settings > Courses > General Settings.
In Select paper size for printed certificates choose an option.
Save to finish.
Set defaults for downloading course content
From main navigation go to Settings > Courses > General Settings.
From Documents, set the following options as required:


Allow Document Downloads

Copy Protect Documents

From Video, set Allow download of video by default as required
From Audio, set Allow download of sound by default as required
Save to finish.
The following screenshot shows the options for setting defaults for course content.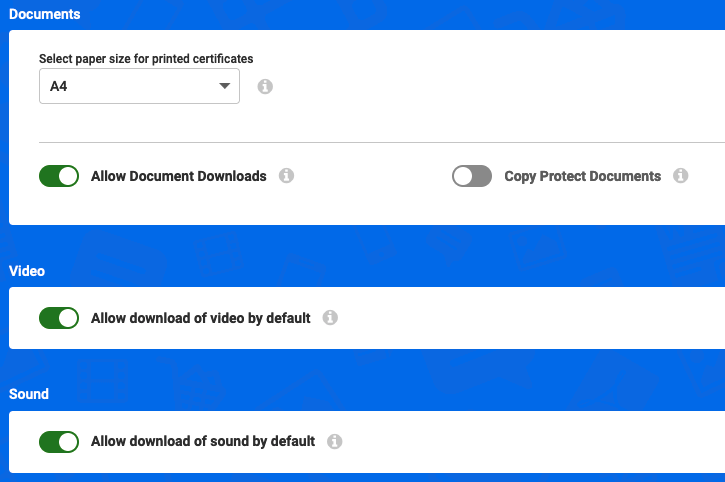 Other course features you set at portal level
See separate articles about: