Summary
For courses with 2+ scoring modules, set an optional pass mark for the whole course.
This feature is available to all customers.
When you add a second scoring module to your course, LearnUpon has additional options to manage your content.
For background see Courses: evaluate learners with scored modules.
Course pass mark explained
For courses with 1 scoring module, this module's score is the score for the whole course.
For courses with more than 1 scoring module, you can set an optional course pass mark: this option is available only after you add a second scoring module to your course.
The course pass mark lets you set a Passed score requirement for an average of the scoring modules.
LearnUpon collects the results of all scoring modules and calculates an average. To pass the course, the learner's average must be equal or higher than the course pass mark.
So if a learner fails one module, they can still pass the course, if their average score is high enough.
Note: If you do not set a course pass mark, learners who fail one exam fail the whole course.
Set a course pass mark
This option appears only when you have 2 or more scoring modules in your course.
From main navigation go to Courses > course name.
From center navigation, choose Content.
In Content Options, enter a score in Set Course Pass Score.
Save to finish.
The following screenshot shows Set Course Pass Score with a sample entry of 75.
The Content Options includes controls for sequencing content. See Courses: sequence your modules for a how-to.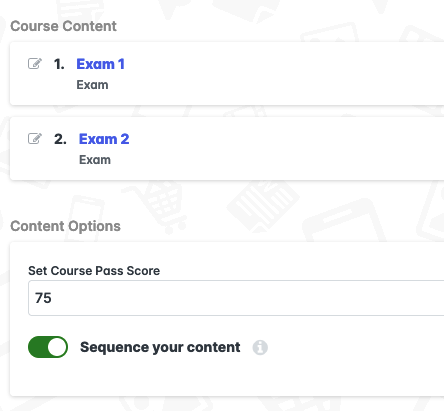 See: