Summary
Enrollments let you assign courses to your learners individually, or in groups. Learn about assigning courses to groups.
Enrollment features are available to all customers.
Group enrollments can take longer to process than individual learner enrollments.
Access permissions to enroll learners
All admins can enroll learners and groups onto published courses.
For managers to enroll learners and groups:
Enroll groups on a course
Once you publish a course and have groups in your portal, you can create enrollments.
You can't enroll anyone, individual or group, on draft courses.
From the primary navigation go to Enrollments.
From Create New Enrollments, select one or more courses from the list.
On the Select Users side, select Switch to Groups to enroll groups instead of individuals: the window label changes to Select Groups.
Select one or more groups to enroll on a course.
Optional:

select

Re-enroll completed users

to add groups to a course they already finished: for example, to make sure learners do not miss mandatory training or re-certification.

Select Enroll to finish.
LearnUpon confirms these enrollments when they are complete.
The screen shot shows the list of groups, with the Re-enroll completed users? option enabled.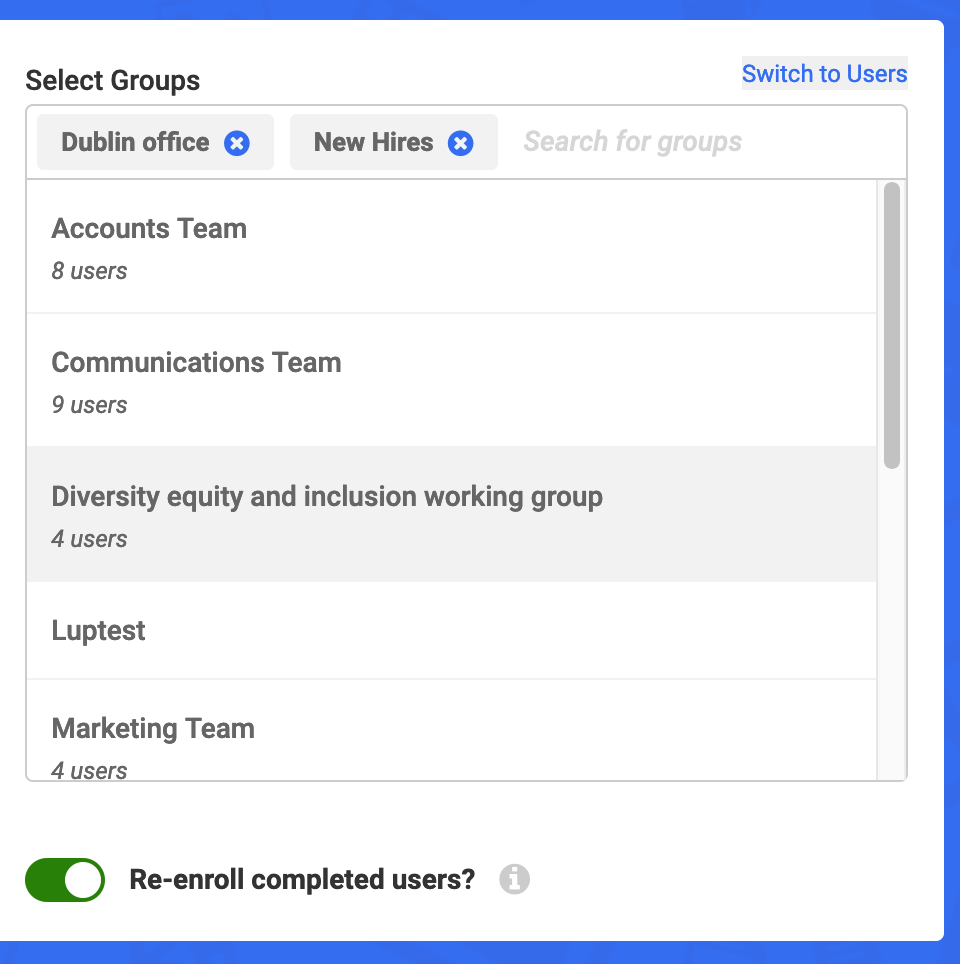 Enrollments for users with disabled accounts
Sometimes you need to disable a user's account temporarily: for example, for parental leave.
While their account is disabled, users are not enrolled on group courses.
When the account is enabled again, LearnUpon enrolls the users in any courses assigned to their group which they missed. The user receives the course notification messages upon enrollment.
Note: this enrollment step to "catch up" on group courses happens even if a course has expired. The learner needs to follow up with their organization, outside of LearnUpon, to determine next steps.
See: