Summary
Deliver your courses to your learners. Enrollments let you assign courses to your learners individually, or in groups.
Enrollments features are available to all customers.
Access permissions to enroll learners
All admins can enroll learners and groups onto published courses.
For managers to enroll learners and groups:
Enroll individual learners on a course
Once you publish a course and have learners in your portal, you can create enrollments.
You cannot enroll learners on draft courses.
From the primary navigation go to Enrollments.
From Create New Enrollment, select one or more courses from the list.
Select one or more learners from the list of learner names.
Optional:

Toggle

Re-enroll completed users

to add learners to a course they already finished: for example, to make sure learners do not miss mandatory training or re-certification.

Select Enroll to finish.
LearnUpon confirms these enrollments when they are complete.
The screen shot shows the list of learners, with the Re-enroll completed users? option enabled.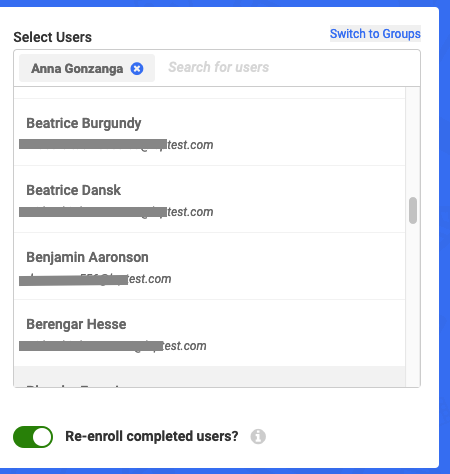 See: