Summary
By default, users log in to LearnUpon with their email address. However, you can assign users a username as login in addition to their email.
The username feature is available to all customers.
Reasons for enabling usernames may include:
You need to integrate LearnUpon with another system which uses usernames instead of email
Not all of your learners have email access
To implement Single Sign On (SSO) with an existing system using usernames instead of email
To activate usernames, you need to discuss this feature with your Customer Success Manager (CSM) to ensure that it is an appropriate solution for your business. After discussing it with your CSM, you need to prepare your user data, to enable usernames on the portal. When you're ready, contact the Support team to switch on usernames for the portal.
Username criteria
By default, the minimum length of usernames is 6 characters. LearnUpon can adjust the length down to 3 characters on request. Discuss this option with your Customer Success Manager.
Usernames can include all alphanumeric characters and a limited set of additional characters:
hyphen or dash: -
underscore: _
dot or period: .
comma: ,
at sign: @
dollar sign: $
hashtag: #
Preparation
Before LearnUpon Support can enable usernames on your portal, you must first update all of the existing users with a username. You can add usernames to the users on your portal via a batch upload.
See Upload users by batch CSV file.
Export your current user list as a CSV
Via your primary navigation, select Users.
Select Batch Upload from the actions menu.
Select Download User CSV.
The following screenshot shows the Download User CSV button.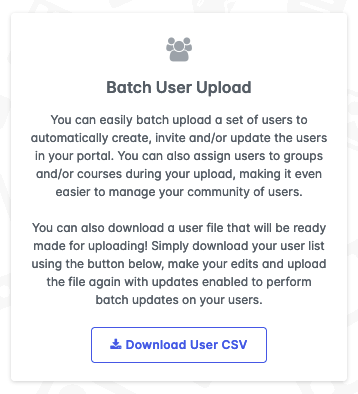 Edit the CSV to include usernames
Add a username column to the CSV.
Populate each row with a username.
Save the file as a CSV.
Note: To update usernames, the only other column required is the email column.
Unless you are making additional updates to the user profiles, you can remove all of the other columns from the CSV, and upload a file with email and username columns only.
Upload the CSV file to update user data
From navigation select Users.
From action menu select Batch Upload.
If you are updating existing users on the portal, enable Update existing users?
Select Upload File
In the window that opens, choose your prepared CSV file from your drive, and select Open.
Save to finish.
A notification appears to indicate whether the process was successful. LearnUpon sends an email with the details of the batch update. When this step is successfully complete, you can contact the Support team to enable usernames for your portal.
Once enabled, users can log in to the portal with their username instead of their email address.
Considerations
Once you enable usernames, users without email addresses on the portal do not receive automated notifications from LearnUpon. These notifications can include:
Portal invitations
Enrollment reminders
Course completion confirmations
Reset password emails
For example, you must distribute account passwords to users manually, outside the portal.
See: