Summary
Download all your user settings and information, aka metadata, including custom user data, in comma-separated value (CSV) format. This download contains most of the data available from a user's profile.
This feature is available to all customers.
Note: this downloadable CSV is different from the downloadable CSV about users, available from Users > Batch Upload. The two CSVs aren't interchangeable.
The two CSVs contain different data, and the batch upload CSV is designed to make batch uploads easy. See Batch user upload: overview and options explained for background about the batch upload feature.
Access permissions to export user data
Admins can export all users and all their data in a portal without restrictions.
A manager can export data for all the users they manage in groups.
The rule of thumb: if the manager can view the user's profile, then the manager has permissions to download the user's data.
If users belong to additional groups outside the manager's remit, the data related to those groups is not included in the manager's download.
The exported data for managers lists the date that users were created or invited, but doesn't include who created or invited them.
Export user data
From main navigation, go to Users.
From the Actions menu, select Export to Excel.
From the dialog that appears, select the link to download the file.
The following screenshot shows the option for admins, in Actions.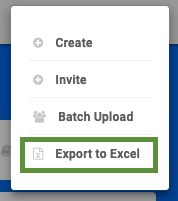 See: