Summary
Learn what features and options are available to an admin or a manager, from an individual user's profile.
User profiles are available to all customers.
Access permissions
Admins for a portal can access all the user profiles within their portal. Only admins can access user type settings in a user profile, and change a user's type: for example, from a learner to a manager.
A manager can't create new managers, instructors or admins.
Managers can access the user profiles of learners who belong to the manager's group.
See Managers: set permissions to manage groups for the types of changes a group manager can make for learners.
Instructors can't access their learners' user profiles.
Learners can access their own user profiles. See Your profile: the learner view.
Access a user's profile
From main navigation go to Users, to view all users in the portal.
Use secondary search to find an individual user by name, email or username, as required.
Select an individual user's name to open their profile.
Tip: The user's profile is also available from More > Profile, aka 3-dot menu.
The following screenshot shows a sample of the default view of Users:
the user's type appears in this view, one of Learner, Manager, Instructor, Admin
the number next to the book icon refers to the user's number of course enrollments
the number next to the people icon refers to the user's number of group assignments

Profile view, in detail
The following screenshot shows an example of a user's profile.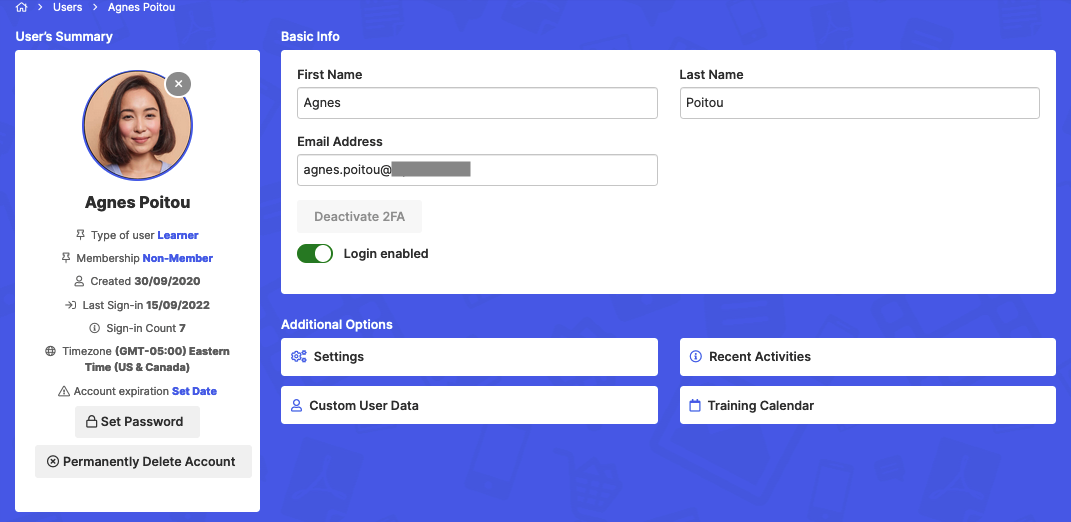 From User's Summary you can:
Note: If associations and membership types are enabled, the membership type appears in the User Summary, and is editable. See Associations and membership types: overview and setup
From Settings, admins can access the user's type, and change it.
From Custom User Data, you can view and edit the user's custom user data. See Custom user data: set up custom fields
From Recent Activities, you can view the individual user's activities in LearnUpon including:
logging in and logging out
course enrollments
course launches
exams and surveys
levels and badges
From Training Calendar, you can view the user's scheduled courses.
See: