Summary
To start, you need only enter a course name, and save it, before starting to add content. Other settings are important, but optional.
This feature is available to all customers.
In your course Info you can add a course reference code: a free-text field for course-level data. See Courses: using the course reference code for an overview.
To add course reference codes to your course data, send a request to the support team.
Create and save a course
A description and keywords are optional.
From the primary navigation menu, select Courses.
On the Courses page, from the action menu, select Create New Course.
In the Create New Course card, enter the course name, and a brief description (optional).
Select Save to finish.
The application opens the course Info page.
You can add more details about the course, like keywords or course reference code, at any point. After any change, select Save to finish.
The following screenshot shows the Details card for a new course, with a course reference code.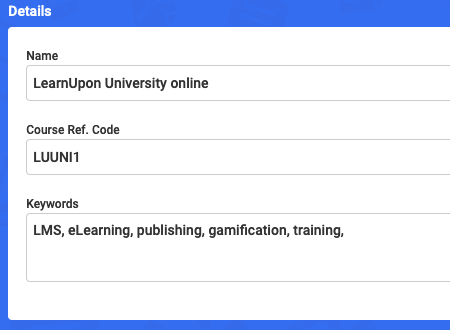 Once you create your course you can begin adding content, adding modules and segments.
When your course is complete, you publish your course and start enrolling learners.
See: