Summary
Connect Personio to LearnUpon to create portal invitations to learners automatically from Personio data.
This feature is available depending on your LearnUpon plan.
If you use Personio to manage your HR records, you can integrate Personio with LearnUpon. Personio provides account information to set up learners' portal accounts automatically.
See the Personio website: LearnUpon is not responsible for content outside this website.
Your Customer Success Manager (CSM) or the support team adds the feature to your portal. You still need to enable it, to start using the feature.
Personio and LearnUpon: overview
Set up the Personio integration to connect your organization's HR records to your learning portal. Personio provides basic employee attributes including:
first name
last name
email
status
termination date
last modified
With these attributes, LearnUpon sends invites to your organization's learners, so they can log in to LearnUpon. LearnUpon checks Personio for new user details once a day to update the portal records. The integration works in one direction, sending user details from Personio to LearnUpon.
If a learner's first name, last name or email address change in Personio, LearnUpon updates its records, but doesn't send a new invitation.
If learners leave your organization, LearnUpon ends their access to the portal based on the termination date in Personio.
Admins can track invite progress the same way as all other learner invites. For pending invites, see Users > Pending Users for a current list of invites waiting for a response.
You can also export users to a .CSV file, to view invite dates and all other user account information. See Users: download all user data in a portal.
Note: Personio does not send data from New Hire Date or Employment Type fields. The integration uses only the fields listed.
Personio status and learner invitations
For Personio's employee status field: if the status is inactive, LearnUpon does not synchronize the learner, and does not send them an invite to LearnUpon.
For all other statuses like onboarding or leave, LearnUpon sends an invitation to the learner.
Access permissions
Only LearnUpon admins can set up the integration.
Prerequisites
The LearnUpon admin who sets up the integration requires access to a Personio admin account.
From Personio, you need to generate API credentials to connect Personio to LearnUpon.
From Personio's admin dashboard, in API credentials, select LearnUpon to generate your Personio client ID and an API credential (secret).

Copy your Personio client ID and API credential (secret) to a safe location, or directly into the portal integration.
Add Personio to your portal: first-time setup
Your Customer Success Manager or the support team turn on the integration for your portal. You as admin set it up for your organization.
From main navigation go to Settings > Integrations > HR Integrations.
Select Personio.
Select + Connect.
In Connect Personio dialog, enter Client ID and Client secret from Personio.
Select Connect.
On HR Integrations, the integration appears as Active. See the following screenshot for an example.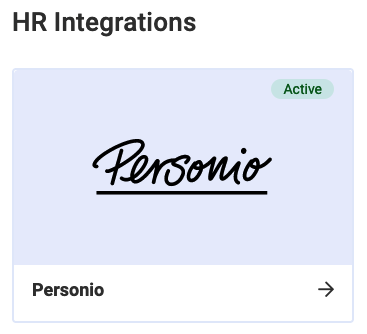 Remove Personio from your portal
From main navigation go to Settings > Integrations > HR Integrations.
Select Personio.
From Personio, select Disconnect.
In the dialog that opens, select Disconnect to confirm.
Personio documentation for reference
LearnUpon is not responsible for content outside this website.
See: