Summary
Integrate LearnUpon with Zoom. Create meetings and webinars and link them to Instructor Led Training (ILT) Sessions on LearnUpon.
Instructor-led training modules are available to all customers.
Webinar integrations are available depending on your LearnUpon plan.
Note: The Zoom integration option only appears when accessing LearnUpon via your .learnupon.com address. You can't set up the initial connection while accessing your portal via your white-label address.
After you make the initial connection from the .learnupon.com address, you can create and manage Zoom webinars from either .learnupon.com or your custom URL.
Pre-requisite: Zoom account owner installs the LearnUpon app for Zoom
The Zoom account owner, or person with Zoom admin permissions, must install the LearnUpon Zoom Marketplace app for your organization's portal. The app is in the Zoom marketplace: download directly from this link.
Your organization can set up multiple Zoom accounts to integrate with LearnUpon. Each Zoom account requires the correct permissions to make it accessible for users.
To access LearnUpon admin options, the Zoom account owner must have a LearnUpon admin account.
Set up Zoom permissions for LearnUpon users
The Zoom account owner, or Zoom admin permissions holder, must assign the correct permissions to the LearnUpon admins: those admins who are integrating Zoom with LearnUpon.
See the permissions listed on Zoom's App Marketplace page for LearnUpon.
Note: Zoom regularly update and change their features. Check Zoom's own documentation for the most up to date requirements to use their integration. If LearnUpon's documentation is out of date, please submit a ticket with a correction.
Based on these permissions and customer research, the following settings provide access to LearnUpon accounts, to connect to Zoom or use existing Zoom connections.
Zoom's User and Permission Management
Users: View and Edit
User advanced settings: View and Edit
Role management: View and Edit
Groups: View and Edit
Account Management
Account profile: View and Edit
Reports
The following screenshot shows the settings required for User and Permission Management and Account Management in Zoom.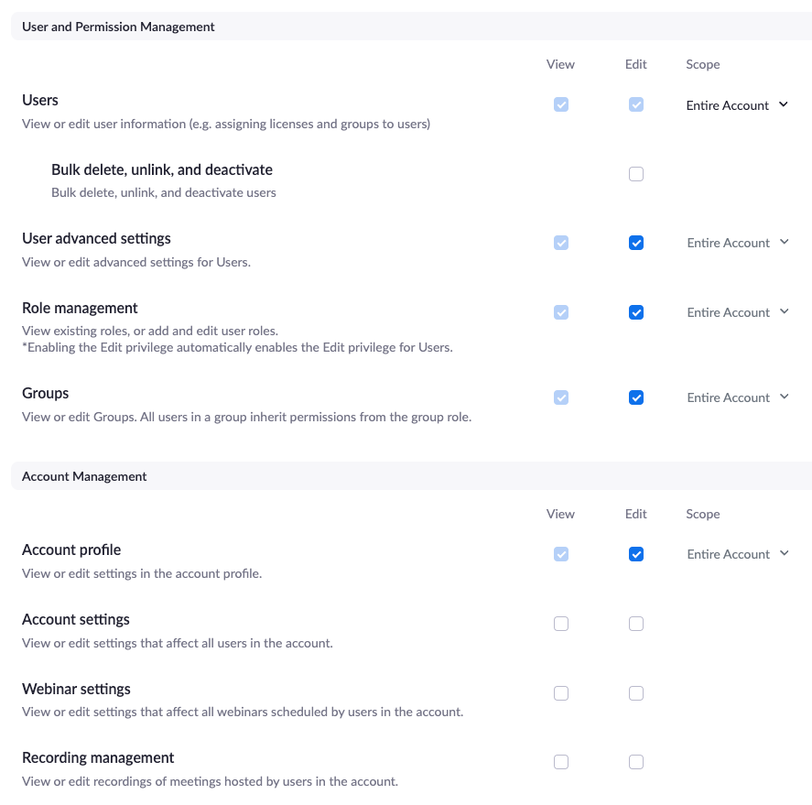 The following screenshot shows the permissions required for Reports in Zoom.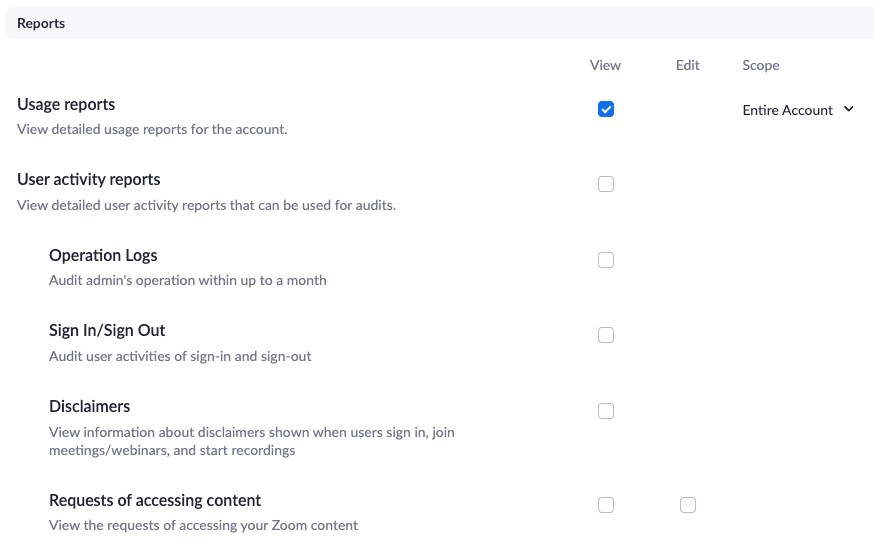 If, as a LearnUpon user, you need additional permissions, contact your organization's Zoom admin or account owner.
Connect to Zoom to create webinar sessions
Connect to Zoom once your organization has set up the app for your organization, and you have the correct Zoom permissions.
From your LearnUpon portal's main navigation go to Settings > Integrations > Webinar Integration.
In Add New Webinar Integration select Zoom.
In the Zoom Authentication page select Continue.
Sign into your Zoom account.
Select Allow to confirm integration.
The Zoom account now appears in Active Webinar Integrations in LearnUpon, and this account appears as an available option when creating ILTs with webinars.
If you get a message like "You cannot authorize the app" in LearnUpon, the Zoom account owner or administrator needs to complete setup before you can access Zoom.
Zoom for healthcare accounts
Zoom for healthcare accounts enforce compliance with Health Insurance Portability and Accountability Act (HIPAA). These accounts limit access to webinar session attendance records by default, to prevent unauthorized access to protected health information (PHI).
For example: you can download session attendance records, but Zoom obscures the email addresses of attendees.
See Zoom for healthcare site for guidance.
LearnUpon is not responsible for content outside this website
See: